---
---
A warm welcome from the authors of Organizational Behaviour and the creators of the Junction Hotel, Daniel King and Scott Lawley.
---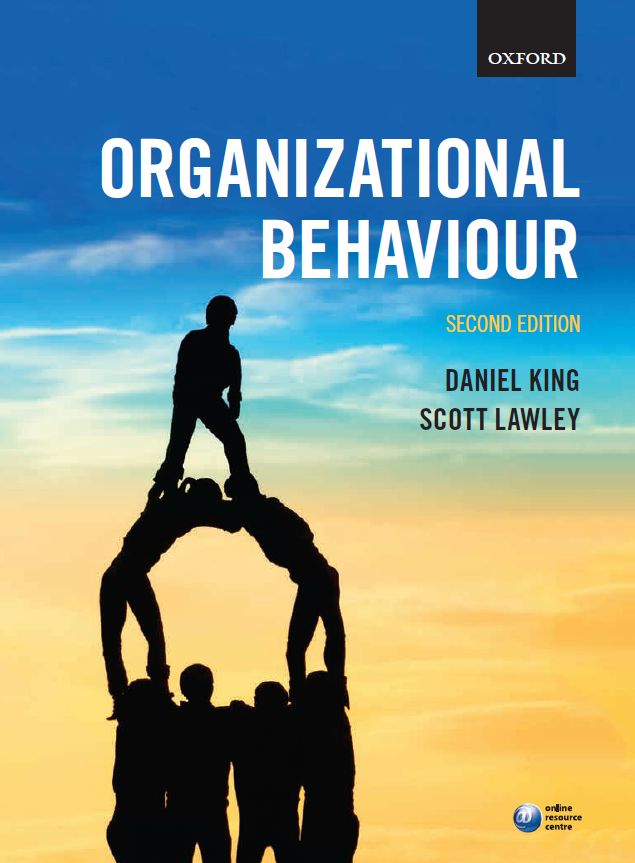 Organizational Behaviour
Second Edition
Daniel King and Scott Lawley
May 2016 | 704 pages | Paperback

ISBN: 9780198724025


Fully integrated fictional running case study - the Junction Hotel


Engaging writing style with a critical edge


Compact, affordable, AND comprehensive


A range of online resources including practitioner video clips and seminar plans


Stylishly decorated, with figures and diagrams throughout



Theory translated into practice
Dear Colleague,
When we began writing the first edition of King and Lawley Organizational Behaviour our intention was to write a scholarly and critical book that was also accessible and brought the contents to life. We did this through our fictionalised running case study Junction Hotel to bring the theory to life, as well as returning to many of the classic OB texts to develop critical insights into the theory. We knew for our own teaching that this approach worked well, particularly teaching large cohorts. It has been gratifying that the book has been so well received and many have commented on its innovative approach and accessible style. This new edition builds on all of these elements refining the writing, extending the coverage with more discussion of decision-making and neo-Fordism and updating the material with real life cases such as the story behind the 'Ice bucket challenge', stories of Whistle-blowers and the challenges faced by Twitter.
As lecturers of organizational behaviour we know that it can be a fascinating, informative and stimulating subject that provides real insight into why organizations work as they do and sheds light on the complexities of human behaviour. Yet we also know there are challenges in communicating these ideas to students, particularly those with limited work experience. Whilst OB encompasses multiple perspectives, we often find students tend to prefer simple answers, neat models and quick-fix solutions to organizational problems. Many students struggle with the idea that there are different perspectives and no right answers and that in practice things are more messy and confusing than simplistic models like to present.
The challenge for many students therefore is to understand how a theory might work in practice and to develop the skills needed to be critical thinkers who can see things from different points of view. They need to achieve experiential learning where there is no experience. Many conventional textbooks provide somewhat dry, fact-filled, encyclopaedic accounts, what Paulo Freire called the 'banking model', which transmit the right information but often do not engage the students.
One of the central objectivities in writing this book was as a way of overcoming this 'experience gap'. This has been achieved through our unique running case study. Set in Junction Hotel, students get to know the organization, its characters, problems and potential solutions as they seek to overcome the challenges of everyday life. Using 'problem-based learning' through the fictional case the students grapple with the challenges of being in organizations. They see issues through multiple perspectives (managers and workers) which capture the sometimes messy reality of organizational life. For instance they see the managers' rational drive to efficiency but how irrational and frustrating it can be when experienced by the staff, the everyday power struggles that occur throughout the organization and the attempts made by managers to change the organization and the resistance from workers.
This student-centred approach is at the heart of the book with multi-layer review questions designed to encourage deep-learning, employability and study skills to encourage personal reflection and development, and interviews with real life managers.
As lecturers we know that you are busy and face many competing pressures, including high quality teaching, administration and research. We also know that most lecturers take pride in developing their own teaching materials. Therefore so support you we have created lecture slides that can be used off-the-shelf or as fully customisable lecture slides that you can adapt to your purposes or even just use the diagrams and models and integrate them into your existing teaching material. The textbook also comes with a fully developed interactive seminar programme to equip you with everything that you need to teach OB to a wide range of students. We have also two extensive banks of assessment questions that can be used to embed students learning and also test their understanding. The ORC has multiple choice questions to aid student learning, and the Test bank questions have fully customizable interactive multiple choice questions with feedback to test your students.
So if you want a textbook that captures the complexity of real life organizations but in a manner that is accessible, up-to-date and student-centred, with a comprehensive seminar and lecture package then we recommend you try this book.
Daniel King
Scott Lawley